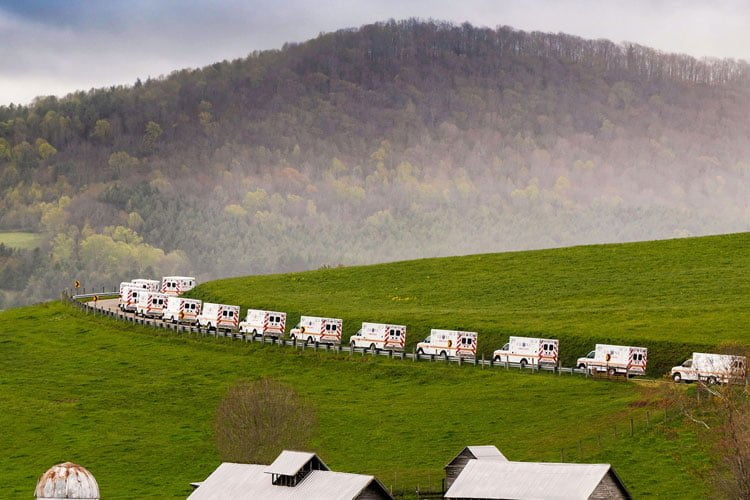 By Alan M. Petrillo
REV Ambulance Group stepped up to the plate during the COVID-19 pandemic when it swept through New York City earlier this year by providing 81 ambulances to the Fire Department of New York (FDNY) as part of an emergency order of rigs authorized by the city.
Scott Barnes, vice president of business development for REV Ambulance Group, says that Wheeled Coach, a REV ambulance brand, is the primary ambulance used by FDNY in a Type 1 style. "Around March 14, I called the commissioner in New York City because I was worried that manufacturing plants might be affected by the pandemic," Barnes notes. "The commissioner told me that FDNY was looking to get some ambulances from FEMA to bolster their fleet. But on March 20, he called me back and said that while the city was going to get some ambulances from FEMA, they wanted to get some of REV's stock and demo units on a rental program for New York."
Barnes says that it took until March 28 to work out the details of the program with New York City and until April 23 when the city issued an emergency declaration to allow REV to provide the rental ambulances to FDNY. "Around April 10, we got strong indications that the deal was going to go through," Barnes says, so we started making changes to our stock and demo ambulances to make them compatible with FDNY's ambulance fleet," he points out. "The changes included installing FDNY style cot mounts in the units, mounting oxygen cylinder brackets, mounting suction units, providing oxygen flow meters, and decal and striping the vehicles to identify them as FDNY ambulances."
Ultimately, REV furnished 81 ambulances to FDNY as part of the 15-month rental contract, which includes eight Wheeled Coach rigs, nine McCoy Millers, one Road Rescue, 12 Front Line, 45 American Emergency Vehicles (AEV), and four Horton Emergency Vehicles, Barnes says. Of those rigs, 24 of the ambulances were Type 1, while 58 were Type 3 chassis. "FDNY specified they did not want any Type 2 vehicles," he adds. Barnes says FDNY's primary fleet ambulance is on a Ford F-550 chassis 4×4 with extended cab.
He notes that a Type 1 vehicle has a pickup style chassis with a patient module at the back, like on a Ford F-550 chassis; a Type 2 is like a Transit van; while a Type 3 is a van style cutaway chassis like a Ford E-350 or E-450. Of the ambulances REV provided to FDNY, 80 were on Ford chassis, while one was on a Dodge chassis.
The ambulances were delivered to FDNY from various REV plants around the country. Two AEV and one Horton rig came from its Leader Emergency Vehicles plant in South El Monte, California; three from the Horton Emergency Vehicles facility in Columbus, Ohio; 43 from the AEV facility in Jefferson, North Carolina; and 32 from its multi-brand Orlando, Florida plant.
Anoop Prakash, REV Group Ambulance Division president, notes, "The men and women of REV Ambulance Group are honored to be able to serve and stand by the Fire Department of New York (FDNY) as they expand their EMS capabilities and contend with the demands of the pandemic."
ALAN M. PETRILLO is a Tucson, Arizona-based journalist, the author of three novels and five nonfiction books, and a member of the Fire Apparatus & Emergency Equipment Editorial Advisory Board. He served 22 years with the Verdoy (NY) Fire Department, including in the position of chief.