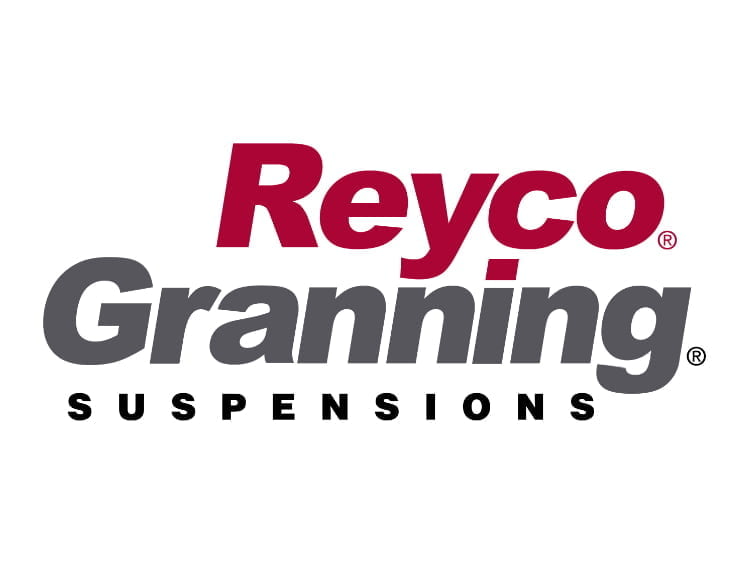 Reyco Granning Electric Vehicle Solutions (RGevs) is introducing two drive axle suspension product families 79KB-EV & 240AR-EV both compatible with e-axles, as well as AirMaster an electronic air supply and control module perfect for EV's.
79KB-EV
Flat-leaf or taper-leaf suspension for GAWR 15,000 lb. (6.8 t) – 35,000 lb. (15.9 t).
Packaged to fit with larger e-axle space-claim.
Ideally suited for delivery truck, work truck, and emergency response.
Available for 4X2 & 4X4 arrangements.
240AR-EV
Air suspension for GAWR 17,000 lb. (7.7 t) – 23,000 lb. (10.4 t).
Shock tuned and rebound control designed to accommodate high un-sprung mass of e-axles.
Ideally suited for on-highway truck, tractor, large bus, and Class-A motorhome.
Available for 4X2, 4X4, 6X2, & 6X4 arrangements.
AirMaster
Scalable electronic air module.
Ideally suited for any vehicle lacking an engine-mounted air compressor.
Low amperage controller manages air suspension and minimizes electric compressor run time.
Works with OBDII (J1979) capable systems.
"The products being launched by our Electric Vehicle Solutions unit are establishing a leadership position for Reyco Granning in vehicle electrification and the reduction of greenhouse gasses," said President John Stuart.
Come see our display at the Advanced Clean Transportation Expo (ACT) in Long Beach, CA on May 11-14, 2021.