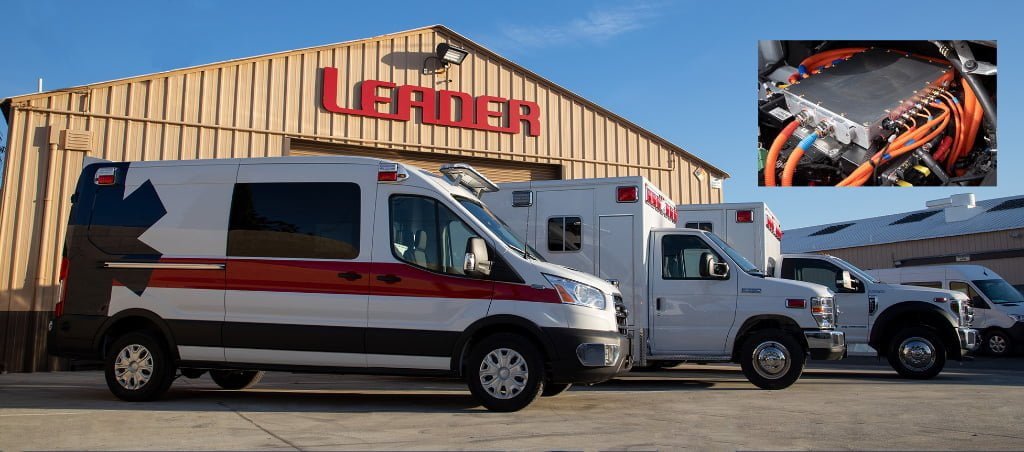 Commercial vehicle manufacturers Lightning eMotors and REV Group, Inc. announce they are co-developing zero-emission, all-electric ambulances with Leader Emergency Vehicles™, a REV Group subsidiary. Available to government agencies, municipalities, commercial operators, hospitals, and non-profit organizations, delivery to customers is expected to be at the end of this calendar year.
"Electrification is reaching all different types of fleet vehicles, and ambulances are a logical next step," said Tim Reeser, CEO of Lightning eMotors. "These zero-emission vehicles are powerful, smooth, and quiet, and drivers will love them. As a fully electric model, they have no tailpipe emissions, so it's a healthier choice for the air you breathe as well."
The new Leader ambulances will be based on the fourth-generation Lightning Electric Transit Van from Lightning eMotors. Leader's High Roof Transit van offers up to 105 kWh of battery capacity that can be charged via Level 2 AC charging or DC fast charging. This model is equipped with dual rear wheels providing a 10,360 lbs. gross vehicle weight rating (GVWR).
"REV Group's vision is our continuous pursuit to improve the quality of life for our customers and communities," said Rod Rushing, President and CEO of REV Group. "This pursuit includes our commitment to investing in innovative technology and leading in the electrification of commercial vehicles."
The ambulance chassis will be electrified at Lightning eMotors' Loveland, Colorado facility and then built at Leader's facility in South El Monte, California.