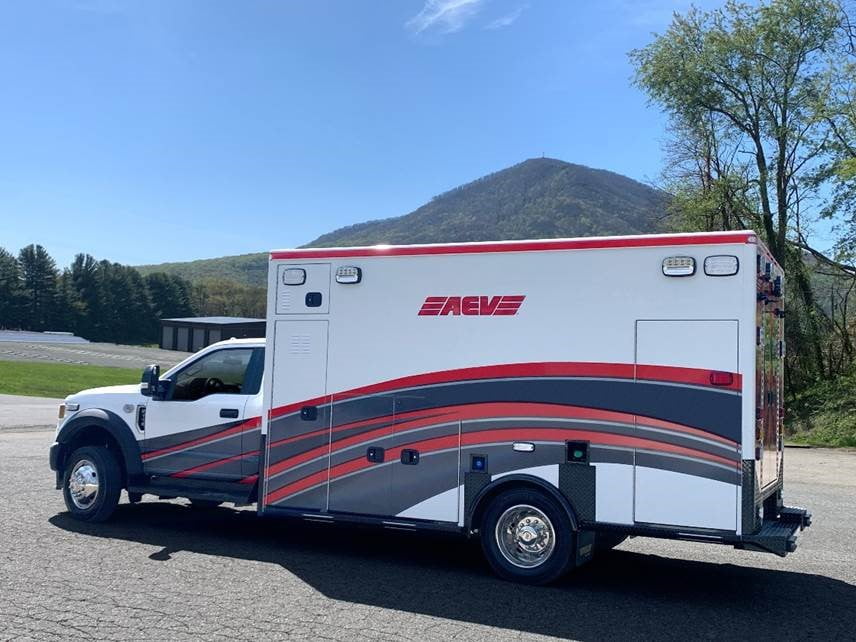 American Emergency Vehicles (AEV®) will showcase the breadth of its ambulance offering that meets the diverse needs of fire departments across the U.S. at FDIC (Fire Department Instructors Conference) April 27-29, 2023, in Indianapolis, Indiana. The line-up includes AEV's 2023 show truck, a Gary Fire Department ambulance, and an ambulance built for the North Chicago Fire Department.
The AEV 2023 show truck is part of AEV's X-Series™ that allows extensive customization options for customers.  It is a Type 1, Ford F-550 that includes an aluminum and composite interior design, a dual compressor AC system for optimal cooling in the cab and module, areplacement grille which includes fog and driving lights, a full LED Whelen M-Series DUO™ lighting package, Per4Max® seat belts, RollTek® rollover airbags, Class 1 UltraView™ control panels, solid surface interior counter tops, LED lighted roll up flooring and a blacked out trim package. The ambulance is being shown courtesy of AEV dealer American Response Vehicles (ARV).
The AEV booth will display a Type 1, Ford F-550 from the Gary (Indiana) Fire Department.  "We are grateful to the Gary Fire Department for allowing us to show their ambulance in this year's show," said Randy Barr, Director of Sales for AEV.  "The Gary ambulance includes features such as the Arctic Wedge cooling system for optimized cooling in the cab and module, rear LED traffic advisor system, full LED Whelen M-Series™ lighting package, e-Q2B™ siren system, solid surface interior counter tops, Zico hydraulic oxygen system, Per4Max seatbelts and much more."
The third ambulance in the display is courtesy of the North Chicago (Illinois) Fire Department.  It is a Type 1, Diesel F-450, 4×4 with 193" wheelbase that features 72" finished interior head room, a dual curbside entry stepwell with body drop for easier access, an Arctic Wedge cooling system, a Whelen M-Series LED lighting package, an incorporated Whelen Opticom™ Emergency Vehicle Preemption system and a built-in child safety seat.
"It is an honor for us to display customer vehicles which demonstrate the variety of designs and features available to meet unique needs of fire departments across the country," said Barr.
Visit AEV at FDIC Booth #4621 to see this great line-up of emergency vehicles.
###
About AEV
AEV is one of the best-selling ambulance brands in the U.S., building nearly one quarter of the ambulances on the market today.  AEV builds the industry's broadest range of ambulances, each one made with the hands-on American craftsmanship of a highly experienced and skilled team. AEV manufactures its full line of Type I, Type II, Type III and Medium-Duty ambulances in Jefferson, NC, at a bright, pristine factory set among the Blue Ridge Mountains. AEV's rigorous, LEAN manufacturing processes and engineering innovation achieve superior quality and value, while meeting the unique specifications of emergency departments around the country. Its nationwide network of dealers provides service and support to customers before and long after the sale. AEV is The American-Crafted Experience®.
AEV is a brand of Halcore Group, Inc, which is a subsidiary of REV Group, a global leader in emergency vehicles and specialty vehicle brands.
About REV Group, Inc.
REV Group companies are leading designers and manufacturers of specialty vehicles and related aftermarket parts and services, which serve a diversified customer base, primarily in the United States, through three segments: Fire & Emergency, Commercial, and Recreation. They provide customized vehicle solutions for applications, including essential needs for public services (ambulances, fire apparatus, school buses, and transit buses), commercial infrastructure (terminal trucks and industrial sweepers), and consumer leisure (recreational vehicles). REV Group's diverse portfolio is made up of well-established principal vehicle brands, including many of the most recognizable names within their industry. Several of REV Group's brands pioneered their specialty vehicle product categories and date back more than 50 years. REV Group trades on the NYSE under the symbol REVG. Investors-REVG