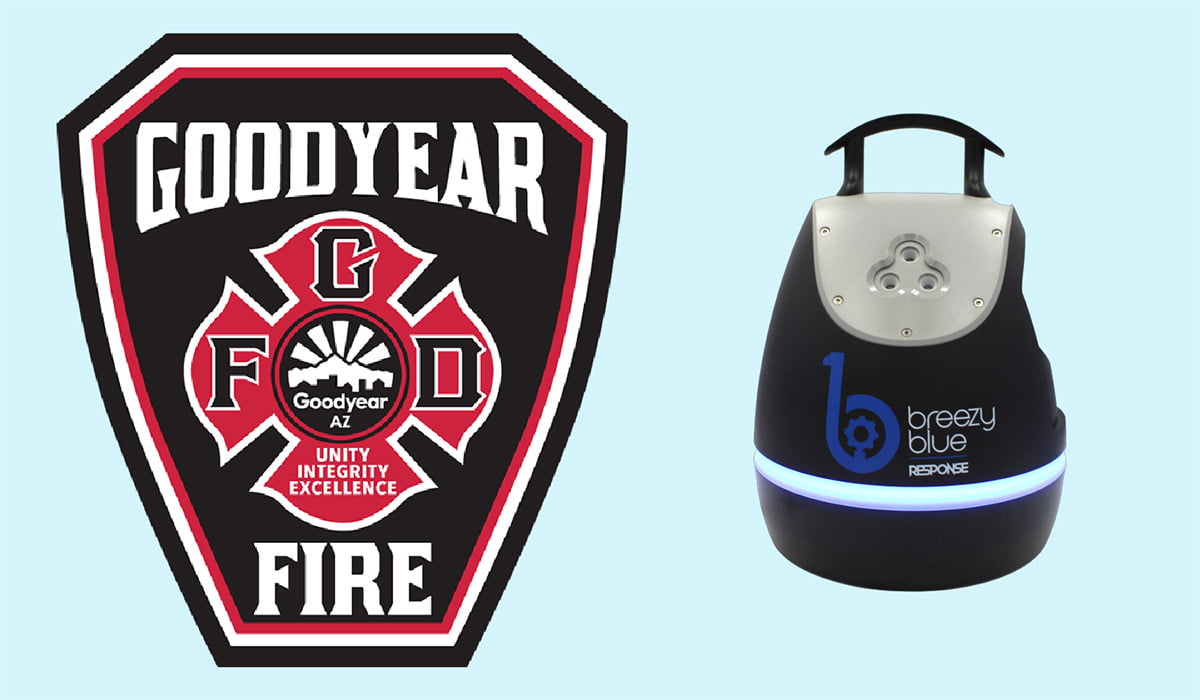 With medical emergency call volume continuing to rise across the nation, first responders are looking for efficient ways to keep their patients and working environment healthy. Goodyear Fire Department is one of the first to adopt automation in their stations with its newly deployed minibots: the Breezy Blue™ disinfecting foggers. Goodyear Fire Station 181, which is a +20-room station with just over 16,000 square feet, can now be disinfected in 45 minutes for under $25, with ambulances disinfected between calls with 15 seconds of fogging and 10 minutes of settling time.
Build With Robots, the creators of Breezy Blue, partnered with the medical solutions distributor Panakeia to bring automation into first responder markets across the Southwest.
"Bringing Breezy Blue to an Arizona fire department has been very exciting for us," said Chris Ziomek, CEO of Build With Robots. "This year is about expansion into new regions for Build With Robots, and we're off to a great start with partners like Panakeia who are looking to provide innovations to further support their medical community."
"We were disinfecting with sprayers and UV, it took our team a lot of time and resources," said Battalion Chief Darrin Green from Goodyear Fire Department. "When I saw that Breezy Blue could disinfect and deodorize our facility with this type of efficacy, efficiency and versatility, I knew it would be a great asset to the team."
The smart minibots fog Green Clean Certified disinfectant for quick and complete coverage of spaces. It can disinfect and deodorize most rooms in about 30 seconds, and emergency apparatuses need only 15 seconds of fogging for 99.9% disinfection.
Pam Jackson, co-owner of Panakeia said, "We are excited to bring this unique technology into our portfolio. We expect rapid adoption across our market channels and the successes building upon the initial deployment in Goodyear."