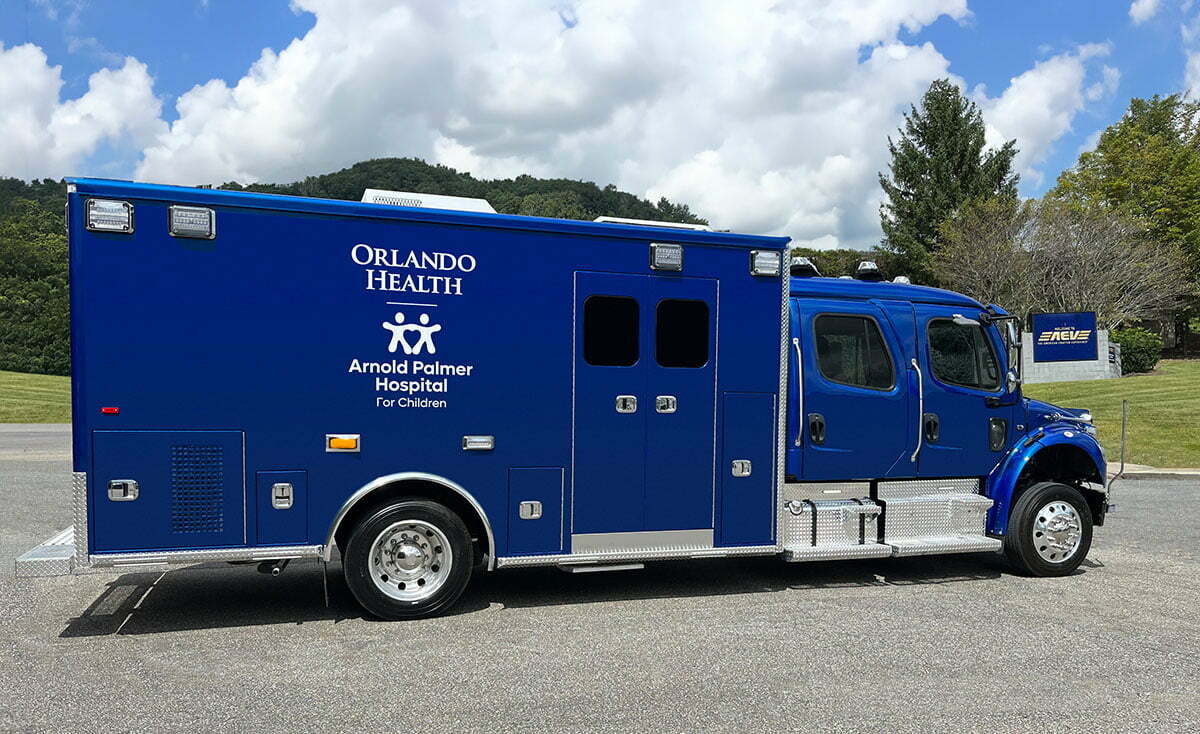 American Emergency Vehicles (AEV®) will showcase two highly customized critical care transport (CCT) ambulances at EMS World Expo in New Orleans, Louisiana, from September 20-22, 2023, booth #1029. CCT is considered the highest level of patient care for the most critically injured or ill patients. The ambulances are designed to accommodate the extra equipment required when transporting patients in critical condition.
"We want to thank both the Kite Flight Specialty Transport Team of Covenant Children's Hospital (Lubbock, Texas) and the Orlando Health Arnold Palmer Hospital for Children (Orlando, Florida) for partnering with us on the design of these exceptional ambulances and for allowing us to display them at this important EMS industry event," said Randy Barr, director of sales, AEV. "We are also grateful to the AEV dealers involved in these sales, namely SERVS, LLC and ETR, LLC, respectively," added Barr.
The Covenant Children's Hospital ambulance was built on a Ford® F-550 chassis with an extended 205" wheelbase and LiquidSpring® suspension systems installed on both the front and rear of the vehicle. Other features include automatic snow chains, an additional external condenser mounted in arctic wedge on the front of the body, a BigTex™ front grille guard, a secondary engine-driven HVAC compressor, a HALO LED® light rail in the patient compartment, dual patient compartment switch panels, an Onan® diesel generator, a rear entertainment system including TV and DVD player, ergonomic interior CCT design with EVS executive seating, solid surface countertops and Halo edge floor lighting.
The Arnold Palmer Hospital for Children CCT unit was built on a crew cab Freightliner® chassis with a 206" long X 98" wide body. Features include a roof mounted external condenser with branch protection, lighted skirt rails, electric entry doorstep, prep for an AeroClave® decontamination system as well as ActivTek INDUCT® 500. The Arnold Palmer vehicle also features an additional AC system mounted on the roof, a turn signal/backup/patient compartment camera system, a Stadco® diesel generator and a Firecom® communication system. The interior of this unit also features a specific CCT design to meet the needs of the customer, including EVS executive seating, multiple drawers, solid surface countertops, dual suction systems and dual Norcold® refrigerators.
Both vehicles feature dual Stryker® Power-LOAD® systems with one system being transverse on the bulkhead.
Visit AEV at EMS World Expo Booth #1029 to see these emergency vehicles and to meet with AEV staff and dealers.  To find out more about AEV visit www.aev.com.
###
About AEV
AEV is one of the best-selling ambulance brands in the U.S., building nearly one quarter of the ambulances on the market today.  AEV builds the industry's broadest range of ambulances, each one made with the hands-on American craftsmanship of a highly experienced and skilled team. AEV manufactures its full line of Type I, Type II, Type III and Medium-Duty ambulances in Jefferson, NC, at a bright, pristine factory set among the Blue Ridge Mountains. AEV's rigorous, LEAN manufacturing processes and engineering innovation achieve superior quality and value, while meeting the unique specifications of emergency departments around the country. Its nationwide network of dealers provides service and support to customers before and long after the sale. AEV is The American-Crafted Experience®.
AEV is a brand of Halcore Group, Inc, which is a subsidiary of REV Group, a global leader in emergency vehicles and specialty vehicle brands.
About REV Group, Inc.
REV Group companies are leading designers and manufacturers of specialty vehicles and related aftermarket parts and services, which serve a diversified customer base, primarily in the United States, through three segments: Fire & Emergency, Commercial, and Recreation. They provide customized vehicle solutions for applications, including essential needs for public services (ambulances, fire apparatus, school buses, and transit buses), commercial infrastructure (terminal trucks and industrial sweepers), and consumer leisure (recreational vehicles). REV Group's diverse portfolio is made up of well-established principal vehicle brands, including many of the most recognizable names within their industry. Several of REV Group's brands pioneered their specialty vehicle product categories and date back more than 50 years. REV Group trades on the NYSE under the symbol REVG. Investors-REVG