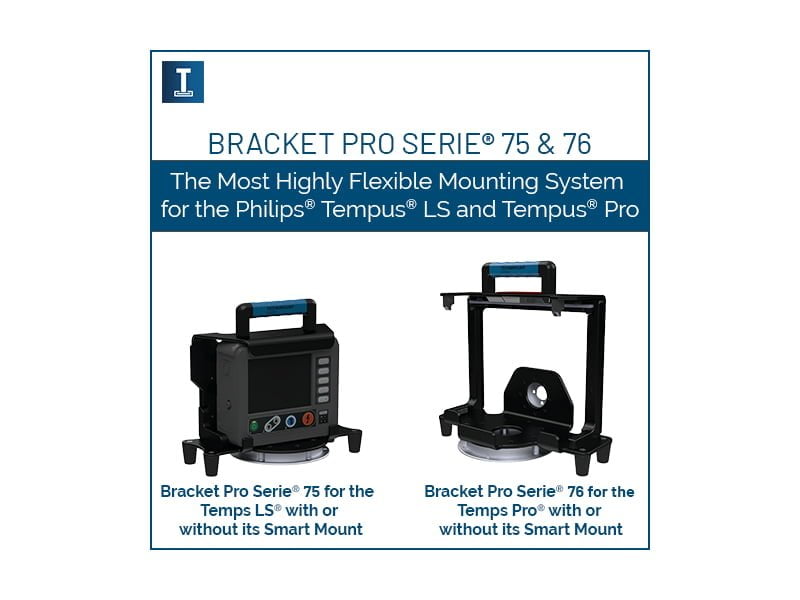 Technimount System, manufacturer of versatile mounting solutions for portable medical devices, announced today the launch of its Bracket Pro Serie® 75 and 76 designed in collaboration with Philips for the Tempus ALS, the company's remote monitoring and defibrillator solution for pre-hospital environments.
With safety and flexibility at the forefront of development, the Bracket Pro Serie® 75 (*Tempus LS-Manual) and 76 (Tempus Pro) were designed in respect to the features of the Tempus LS and Tempus Pro, empowering EMS Providers to maximize the advanced capabilities of the Tempus ALS. Highly flexible, their universal dual-disc feature facilitates installation and transfer between stretchers, counters, and walls in emergency vehicles, with 360° rotational access to the medical devices on Technimount's Standard Surface Base. Their Red Quick Release Mechanism makes it easier to install and quickly remove the medical devices from the brackets when needed.
As the most complete mounting system product line for the Philips ALS, the Bracket Pro Serie® 75 and 76 are available in models designed specifically for the transportation of the Temps LS and Tempus Pro with its Smart Mount docking and charging station.
"With the needs of first responders in mind, partnering with Philips on the development of the Bracket Pro Serie® 75 and 76 for the Tempus ALS is an accomplishment we are particularly proud of," said Carl Bouchard, Founder and CEO of Technimount System. "Our aim is to support healthcare providers with highly flexible solutions that make it easier and safer to transport their monitor and defibrillator – allowing them to focus 100% on patient care."
"Our collaboration with Technimount System reinforces Philip's commitment to helping front line responders confidently treat and transport patients in an emergency." says Matt Penzone, Marketing Director at Philips. "The design and features of the Bracket Pro Serie® 75 and 76 creatively support the modular, flexible nature of the Tempus ALS. They provide the rapidly growing number of Tempus customers with new ways to mount and manage the Pro and LS in different pre-hospital settings.
The Bracket Pro Serie® 75 and 76 are designed to comply with the highest industry standards and regulations for the secure transport of medical equipment, SAE J3043, FAA-FAR-DOT 27.561 and DOT 27.