By Alan M. Petrillo
Ashland (MA) Fire Department operates out of a new public safety facility covering the town of Ashland with a 19,000-resident population in a 12-1/2-square miles area. The department runs an engine, an aerial platform, and two ALS (advanced life support) ambulances, with another in reserve, with a staff of 26 paid firefighter/paramedics, a chief, deputy chief and captain.
"Our initial goal was replacement of our oldest ambulance, a 2010 Osage, but we decided to keep it in reserve and buy a new Road Rescue Ultramedic to run as a primary ambulance along with our 2015 Horton," says Matt Boland, Ashland's captain.
Boland says Ashland purchased the Road Rescue rig built on a Ford F-550 4×4 chassis with a standard bench seat in the cab. "Four wheel drive was a priority for us because of the heavy winter weather that we get," Boland adds, "and custom compartmentation was also important to carry the firefighters' turnout gear."
The Ashland rig has a 193-inch wheelbase with an 18,000-pound GVWR (gross vehicle weight rating), featuring power folding mirrors, a Whelen electronic siren, a Cool-Bar exterior air conditioning condenser, a diesel engine, dual alternators, a Liquid Spring rear suspension, and a Plymovent exhaust adapter.
The vehicle's cab has an in-dash GPS (global positioning system), an enhanced voice recognition communication system, an 8-inch LCD (liquid crystal display) capacitive touch screen with swipe capability, and smart-charging USB-C ports.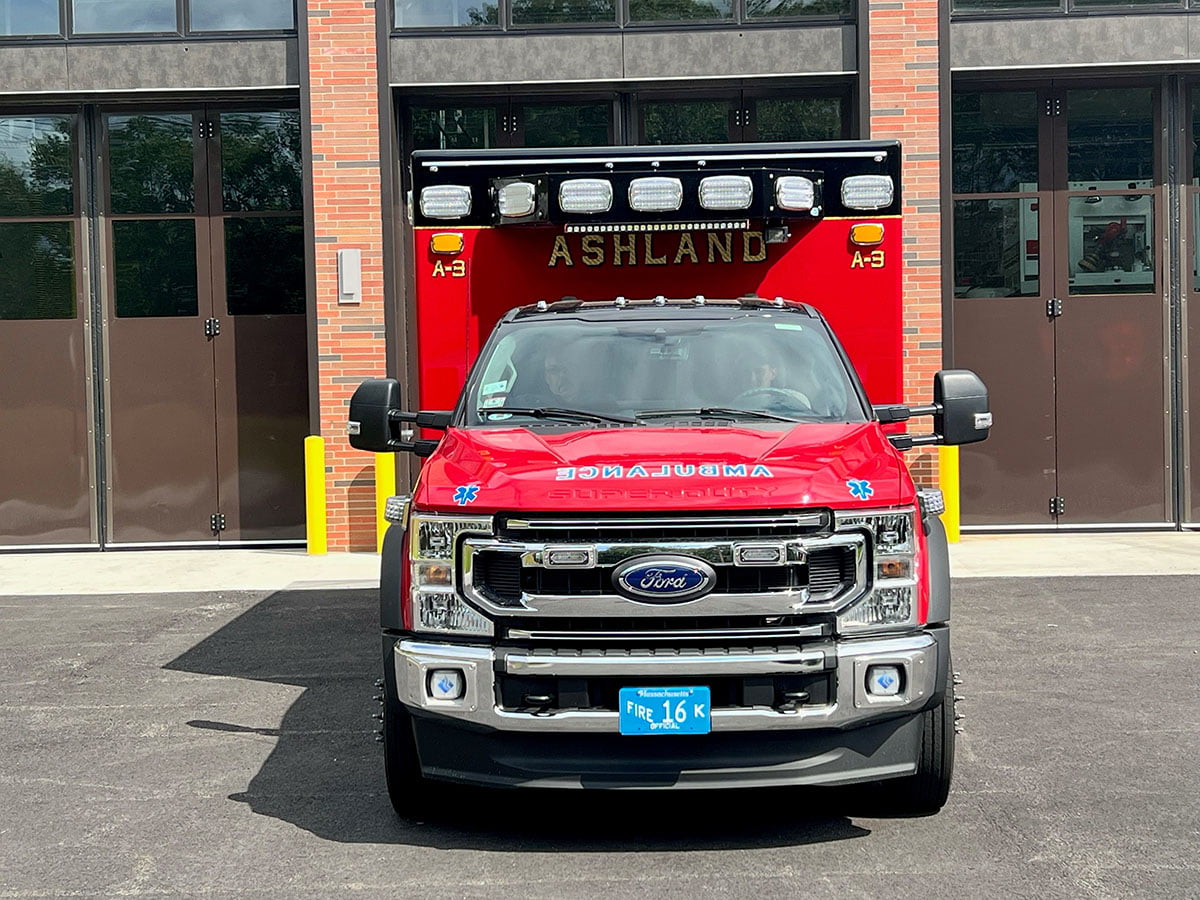 Boland points out that the Ultramedic's patient box has Road Rescue's Whisper Quiet sound dampening/thermal insulation package, a Stryker PowerLOAD system and Stryker PowerCOT, and a pass-through to the cab. The rig has a CPR seat on the roadside of the box, attendant's seat at the head of the cot, and a two-position non-transport bench seat on the curb side, all protected by Per4max four-point safety harnesses.
The Road Rescue ambulance has a backup camera, Hi Viz Fire Tech LED mini-brow lights, and Whelen M9 LED warning and scene lighting.
ALAN M. PETRILLO is a Tucson, Ariz.-based journalist, the author of three novels and five non-fiction books, and a member of the Fire Apparatus & Emergency Equipment editorial advisory board. He served 22 years with Verdoy (NY) Fire Department, including the position of chief.