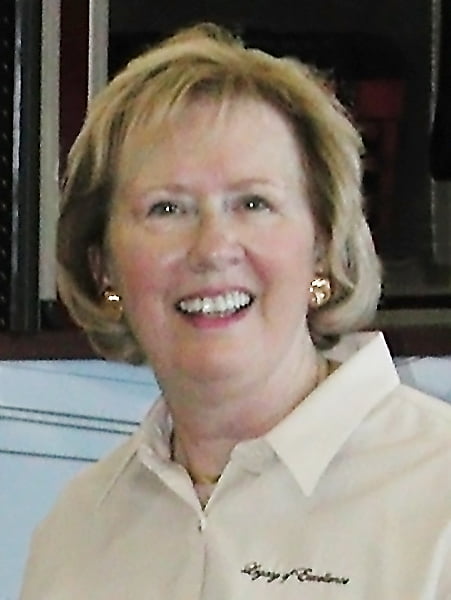 Jean S. Smock, 81, of Manasquan, NJ, passed away peacefully on Friday July 28, 2023, at her home, with family and close friends at her side, after a long-fought battle with Parkinson's Disease.
Jean was born in Boston, MA, lived in Westwood, MA, New York City, New Brunswick, NJ, and eventually settled in Manasquan, NJ. Jean's career spanned many years, beginning at Time Inc., from where she retired after 30 years, and continued as the CEO of P.L. Custom Body and Equipment Co., Inc. in Manasquan until her death.
Jean and her late husband Bud were generous and passionate supporters of her Alma Mater, Endicott College and Rutgers University Athletics, particularly the women's crew team. She was past president of the Endicott Alumni Association, Alumni of the Year awardee and on the Board of Trustees for Endicott College.
The Beta Sigma Phi Sorority played a large part in her life from her early days in New York, Princeton, NJ and in Brick, NJ. An early Westwood High School highlight was her time as a majorette on the twirling squad and a member of the International Order of the Rainbow for Girls.
Jean had an easy smile and made many lifelong friends that remain with her today. She took genuine interest in the lives of all she loved. She enjoyed travelling and gardening as well as journaling and list making.
Jean was predeceased by her parents, Paul and Evelyn Shanning, and her husband Martin V. Smock (Bud). She is survived by her sister, Elizabeth Milley and her husband Stephen, daughters Deborah Thomson and husband Barry, Candi Smock, Jennifer Smock and Marta Quinn, niece Jennifer Gregor and husband Bill, nephew Ron and wife Anna, grandson William F. Quinn, granddaughter Corey Quinn, great grandson William F Quinn IV, grandnephews Chad, Drew and Ross, grandnieces Tatum and Olivia and family friend Ginger Harmer.
Family and friends are invited to attend a visitation on Tuesday, August 1, from 4-7 p.m. at Orender Family Home for Funerals, 2643 Old Bridge Road, Manasquan, NJ, 08736. On Wednesday, August 2, at 10 a.m., a funeral mass will be held at All Saints Episcopal Church of Bay Head, NJ.