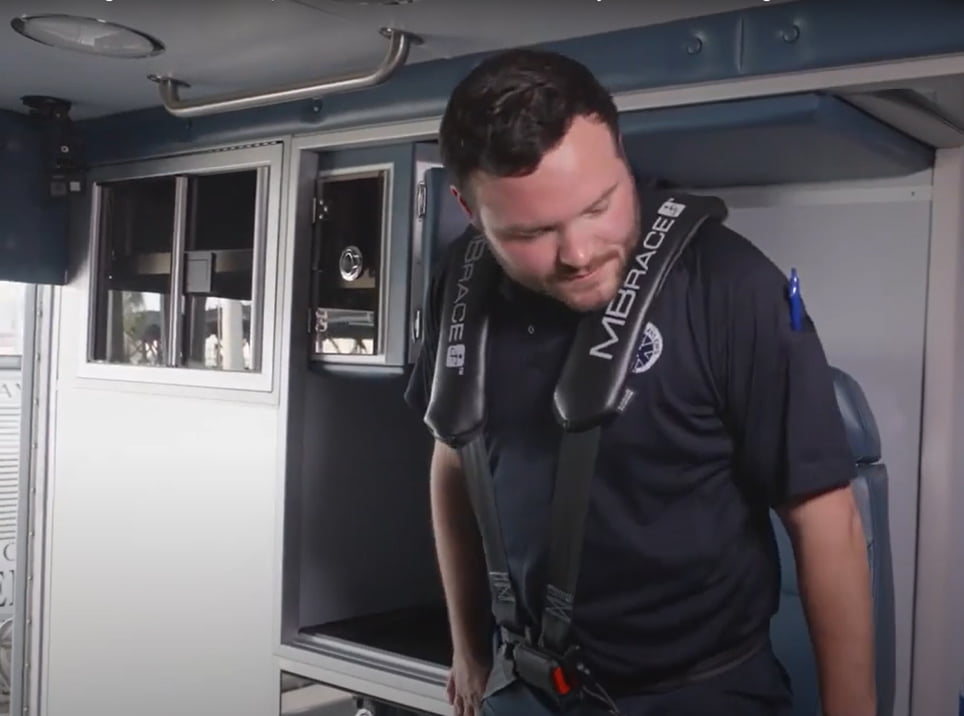 Horton Emergency Vehicles, a subsidiary of REV Group Inc., will showcase the Horton Occupant Protection System™ (HOPS) featuring MBrace, the first of its kind protection for first responders, at EMS World Expo® in New Orleans, Louisiana from September 20-22, 2023, Booth #1228.
"New Orleans Emergency Medical Services (EMS) was the first customer to take delivery of a Horton ambulance with the all new MBrace safety system, so we are excited and grateful to have that truck on display in their hometown as part of EMS World Expo 2023," said Dave Marshall, director of sales, Horton Emergency Vehicles.
In addition to the New Orleans ambulance, Horton will have their 2023 National Show truck on display, which also has HOPS™ Featuring MBrace, providing Expo attendees the opportunity to see the system up close and meet with Horton staff and dealers to learn more about it.
The Horton 2023 National Show Truck is a Type 1 Ford F-550.  In addition to featuring MBrace with mocked up deployed airbags, the truck is equipped with Horton's Cool-Tech® III system that features a powerful 100,000 BTU cooling condenser on the roof, Austin Hardware's new 02 lift, electrical system located in the front wall of ambulance to free up cabinet space.
The electrical system is covered with acrylic in the show truck, to allow viewing.  The National Show Truck also features a crash barrier/door forward design, Horton's own design of a complete front bumper replacement with a brush guard component, electronic privacy windows, an ActivTek® Induct 500 air treatment system to reduce odors and microbial populations on surfaces, Horton Directional Safety Lights to help manage on scene traffic and much more.
Visit the Horton Booth #1228 to meet with the team and learn more about HOPS featuring MBrace.  Additional information about MBrace can be found at EMS World Expo in the IMMI booth, #1343, and online at www.hortonambulance.com/mbrace.
###
About Horton Emergency Vehicles
Founded in 1968, Horton Emergency Vehicles, a division of Halcore Group, Inc., is a REV Group company.  Horton® ambulances are among the industry's most technically innovative and customized ambulances and are synonymous with high quality. The exclusive Horton Occupant Protection System (HOPS) keeps the ambulance crew safe while working in the patient compartment. With a manufacturing facility in Grove City, Ohio, Horton ambulances have Strength & Safety In Every Detail™.
About REV Group, Inc.
REV Group companies are leading designers and manufacturers of specialty vehicles and related aftermarket parts and services, which serve a diversified customer base, primarily in the United States, through three segments: Fire & Emergency, Commercial, and Recreation. They provide customized vehicle solutions for applications, including essential needs for public services (ambulances, fire apparatus, school buses, and transit buses), commercial infrastructure (terminal trucks and industrial sweepers), and consumer leisure (recreational vehicles). REV Group's diverse portfolio is made up of well-established principal vehicle brands, including many of the most recognizable names within their industry. Several of REV Group's brands pioneered their specialty vehicle product categories and date back more than 50 years. REV Group trades on the NYSE under the symbol REVG. Investors-REVG