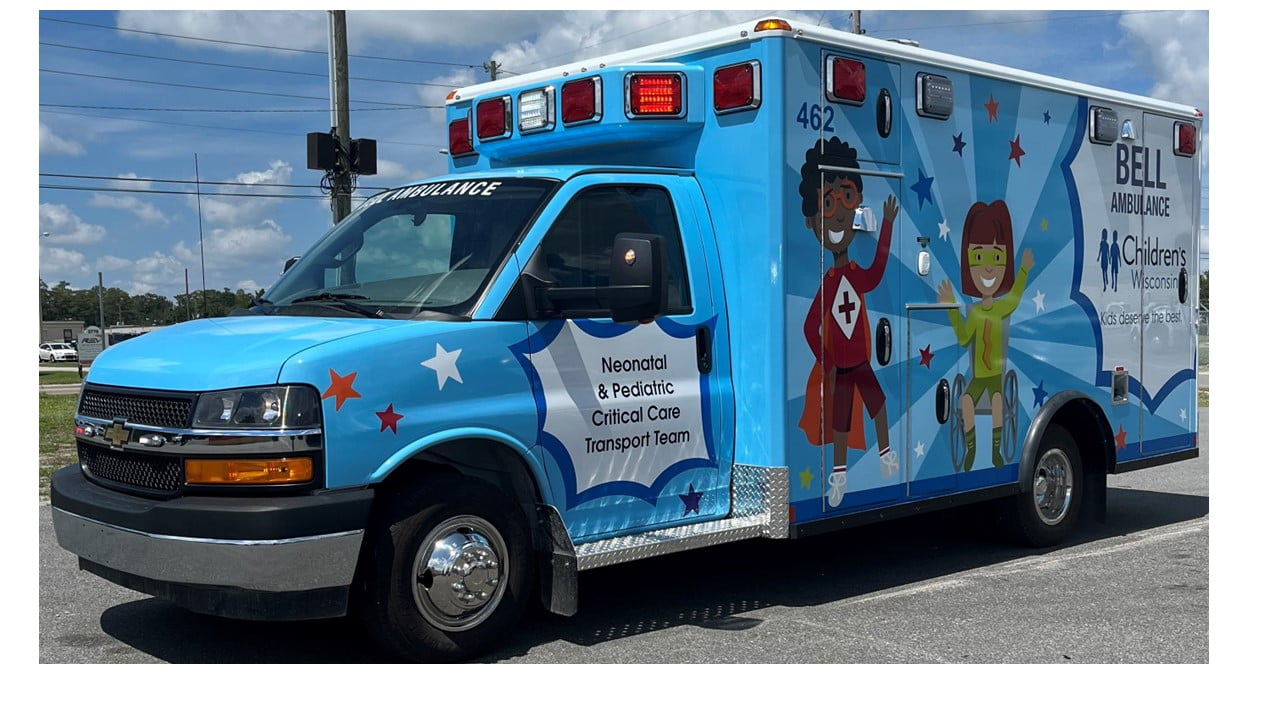 Wheeled Coach®, a brand of REV Ambulance Group Orlando, Inc., a subsidiary of REV Group, Inc., announces it will feature ambulances built for Bell Ambulance and Amerimed Emergency Medical Services (EMS) at EMS World® Expo, September 20-22, 2023 in New Orleans, Louisiana, Booth #1139.
"We are grateful to Bell Ambulance and Amerimed EMS for allowing us to feature their Wheeled Coach ambulances at EMS World Expo," said Abel Del Rio, sales director, Wheeled Coach.  "Those vehicles showcase Wheeled Coach's versatility and customization capabilities."
The vehicle built for Bell Ambulance is a neonatal intensive care unit (NICU) ambulance that will be used to serve Children's Wisconsin, a nationally ranked pediatric acute care children's hospital in Milwaukee.  The ambulance is a Wheeled Coach 170" x 98" x 72" Custom Type 3 built on a Chevy® G4500 chassis and features a MORryde® rear suspension upgrade, custom cab extension, a 4" drop skirt on the curbside forward of the rear wheels, a Wheeled Coach underride rear bumper, power door locks, a severe weather insulation package, custom exterior compartments, and dual cylinder storage.
The interior contains customized interior storage, four swivel attendant seating positions, Per4Max® harnesses with Controlled Deceleration Technology and a CoolBar® HVAC system for patient and crew comfort. The ambulance is finished off with Whelen® LED lighting and a beautiful graphics package.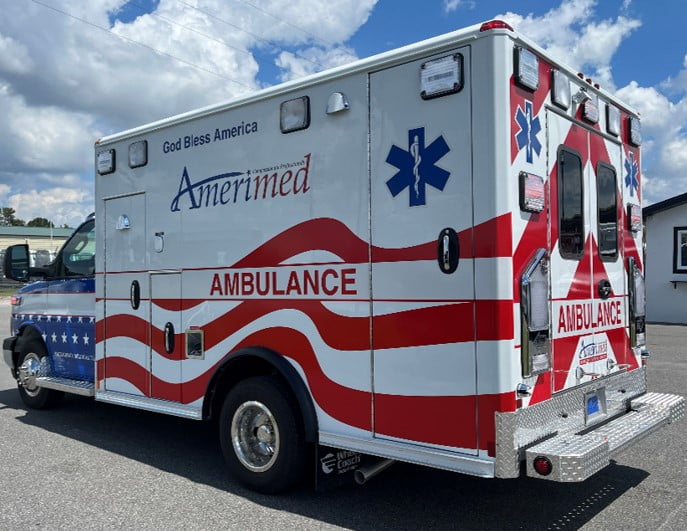 The Amerimed EMS ambulance is a Wheeled Coach Type 3 CitiMedic® built on a Chevy G3500 chassis with a 148" x 90" x 68" module. The CitiMedic features a cab extension for crew comfort as well as Gator Grip step surface on the running boards for safety and a Wheeled Coach underride rear bumper. Whelen® LED lights are featured on the exterior and the interior of the vehicle.
Some of the ambulance module highlights include a full curbside wall of storage cabinets, a ZORG® backup camera for safety, Per4Max harnesses, a CoolBar HVAC system, a curbside wall attendant control panel, a Stryker® Power-LOAD® cot fastener system, and the exterior features a stunning graphics package.
In addition to the Wheeled Coach vehicle display that will be staffed by the Wheeled Coach factory team and dealers, Wheeled Coach is sponsoring and participating in the EMS World Expo Ambulance Marketplace seminar that will take place the morning of Friday, September 22, 2023.
###
About REV Ambulance Group Orlando, Inc.
Wheeled Coach is a brand of REV Ambulance Group Orlando, Inc., a subsidiary of REV Group, Inc. and is a premier manufacturer of Type I, Type II, Type III and Medium-Duty ambulances for municipal and commercial emergency departments. Built to perform under the most demanding conditions, Wheeled Coach ambulances deliver mission-critical durability. Wheeled Coach leads the industry with more firsts than any other ambulance manufacturer, including being the first to conduct IIHS Side Impact Criteria Crash and Roll-Over Testing. It manufactures a full line of ambulances at its production facility in Winter Park, Florida. Since 1975, Wheeled Coach has been Trusted by the Toughest®.
About REV Group, Inc.
REV Group companies are leading designers and manufacturers of specialty vehicles and related aftermarket parts and services, which serve a diversified customer base, primarily in the United States, through three segments: Fire & Emergency, Commercial, and Recreation. They provide customized vehicle solutions for applications, including essential needs for public services (ambulances, fire apparatus, school buses, and transit buses), commercial infrastructure (terminal trucks and industrial sweepers), and consumer leisure (recreational vehicles). REV Group's diverse portfolio is made up of well-established principal vehicle brands, including many of the most recognizable names within their industry. Several of REV Group's brands pioneered their specialty vehicle product categories and date back more than 50 years. REV Group trades on the NYSE under the symbol REVG. Investors-REVG